ARMOR SERIES
DESKTOP GAMING SYSTEMS
An arsenal built for complete domination.
The Armor series is our line of full-featured desktop gaming machines designed to provide the best gaming experience in terms of performance, reliability, and price. Conceived and built by seasoned hardware professionals with a love for PC gaming, the Armor series will make you the envy of your guild.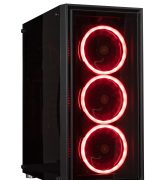 ARMOR VS
To refer to the Armor VS as an entry level machine is somewhat misleading. With an Intel Core i3 12100 processor and an EVGA GeForce GTX 1660 graphics card default with upgrades up to a GeForce RTX 3060 discrete video card, the Armor VS picks up where many "gaming desktops" leave off. It is our gaming desktop aimed at the budget conscious gamer.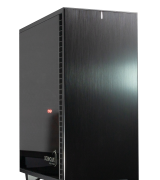 ARMOR ES
The Armor ES is our most popular machine with a 13th Generation 14 Core Intel Core i5 processor and up to EVGA GeForce RTX 3080 video card. The Armor ES is our fully featured, mid-tier system, packed with power, expandability, and our exquisite attention to detail.
ARMOR TL
The Armor TL is our high-end gaming rig that has a factory overclocked and water cooled 13th Generation Intel Core i7 processor (upgradeable to Core i9 13900K) and up to EVGA GeForce RTX 3090 video card. The Armor TL represents the best-in-class combination of elite desktop features, extreme gaming performance, and affordability.
MOBIUS SERIES
LAPTOP GAMING SYSTEMS
Take dominating power and performance with you everywhere you go.
The DogHouse Mobius series offers gorgeous graphics, high resolution gaming, iron-clad stability and zero frame lag. Hardcore components aside, the Mobius series gaming laptops feature sleek designs and are light weight, delivering a perfectly portable gaming experience that crushes any competition that gets in your way.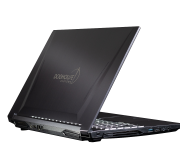 MOBIUS VS
The Mobius VS is a 15" gaming laptop complete with a 12th Generation Intel Core i7 mobile processor and a 3000 series NVIDIA GeForce mobile graphics card with NVIDIA Optimus technology for extended battery life. The Mobius VS is our mid-sized laptop for the budget minded gamer.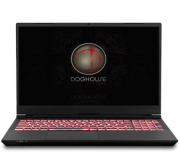 MOBIUS ES
The all new Mobius ES is our high-performance 15" gaming laptop complete with a 12th Generation Intel Core i7 mobile processor, RGB backlit keyboard, and a choice of NVIDIA GeForce mobile graphics cards with NVIDIA Optimus technology. The Mobius ES is a gaming workhorse, delivering exceptional performance and battery life.