DHS L4100
The Ultimate in Mobile Rendering and Design
Impress any client with the rendering power of the L4100 Series. Whether you're traveling across the country or right down the hall to a conference room, this laptop will impress any client.
This model is available with powerful desktop-edition AMD Ryzen 5, 7 and 9 CPUs that ensure your system will provide the highest mobile computing power available.
This laptop is the perfect all-around rendering and design system for mobile engineers who require desktop-class performance.
CPU
With design and rendering in mind, the available AMD Ryzen 9 3900 Pro Processor with factory overclocking will give you the power needed for any task. Includes AMD® Max Boost Technology and Hyper Threading Technology.
Memory
The DHS L4100 comes default with 16 GB DDR4 2400 MHz Memory (2 x 8GB DIMMs), and is upgradable to 64 GB.
Storage
The DHS L4100 supports one 2.5" mechanical or solid state drive (SSD) and one M.2 PCIe NVMe solid state drive to meet your storage capacity and performance needs. Each system comes default with a single 1 TB Seagate Momentus SATA3 drive. Optionally, you can upgrade to an SSD with capacities as high as 2TB and throughput as high as 1800 MB/s. These options give you many ways to quickly store and access your data.
Graphics
For fast rendering on the go, the L4100 comes standard with Nvidia® GeForce RTX 2070 graphics card.
Chassis
Get eye-popping visuals with a 15" Full HD 16:9 Wide screen (1920x1080) 144Hz LED-Backlit display with matte finished screen. Make your mobile experience better with features such as a backlit keyboard, multi-gesture touchpad with scrolling, built-in 1.0M HD web cam, Bluetooth and WiFi with built-in Airplane Mode.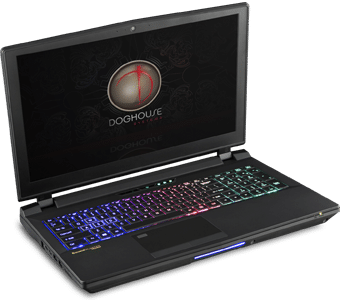 Service and Support is our highest priority. We have built a strong reputation for quality and customer support. In the event a customer experiences down time due to a component failure, they know they can call us, day or night, and we'll be there to help get them back up and running. If we can't have a solution in place by the end of the day, we schedule a full replacement system to be sent to them overnight so they are guaranteed to be back up and running within 24 hours.
Our comprehensive 3 year warranty covers all parts, labor, and support related shipping costs necessary. We have advanced RMA and will work you to customize support based on your needs.
You can contact support at
Phone: 877-DHS-DHS2 (347-3472)
Email: [email protected]
Chassis:
15.6" Full HD 16:9 144Hz Wide screen (1920x1080) LED-Backlit Matte Display with G-SYNC Technology

Integrated Touchpad with Multi-gesture and Scrolling function
Built-in 1.0M HD Video Camera
Full-sized, prgrammable multi-colored backlit keyboard with Numeric Key Pad, Fully programmable macro capability
Instant button for Airplane mode on/off
W/A/S/D gaming keys
Integrated Fingerprint Reader
Kensington® security lock
Dimensions: 14.21" (w) x 10.16" (d) x 1.28" (h)br> 5.95 lbs with Battery Pack
Removable 6 cells Smart Lithium-Ion battery pack 62WH
Full Range AC-in 100~240V, 50~60Hz, 230W AC Adapter, DC output 19.5V, 11.8A
---
Processor:
Default:
3rd Generation AMD Ryzen 5 3600 Desktop Processor, 3.6 GHz, (6 cores / 12 threads) Dynamic overclock up to 4.2 GHz)

Optional:
3rd Generation AMD Ryzen 7 3700X Desktop Processor, 3.6 GHz, (8 cores / 16 threads) Dynamic overclock up to 4.4 GHz)
or
3rd Generation AMD Ryzen 9 3900 Desktop Processor, 3.1 GHz, (12 cores / 24 threads) Dynamic overclock up to 4.3 GHz)


---
Memory:
Up to 64 GB DDR4 3200MHz (16 GB minimum), dual-channel controller with two sockets
---
Video:
NVIDIA® GeForce™ RTX 2070

Graphics features:
1 x HDMI output Port (with HDCP), 1 x Mini DisplayPort 1.4 output Port, and 1 x DisplayPort 1.4 over USB 3.2 Gen 2 (Type-C)

---
Storage:
M.2 SSD drive bay:
Intel SSD SATA3 (up to 2 TB, up to 1,800 MB/s)

2.5" drive bay:
Samsung 860 EVO (up to 2 TB, up to 550 MB/s)
Seagate Momentus SATA3 (up to 1 TB, up to 120 MB/s)

---
Audio:
High Definition audio interface
S/PDIF digital output
1 Array Microphone
2 Speakers, 1 Subwoofer
External 7.1CH audio output supported by 2-in-1 Audio, microphone, Line-in and Line-out jack
Sound BlasterX® Pro-Gaming 360°
ESSâ"¢ SABRE HiFi DAC for high resolution headphone audio
---
Operating Systems:
Default: Microsoft Windows 10 Home 64 bit
. Optional: Windows 10 Pro 64 bit.
---
Connectivity:
1 HDMI output Port (with HDCP) 1 Mini DisplayPort 1.4 output Port 1 DisplayPort 1.4 over USB 3.2 Gen 2 (Type-C) 1 Push-push Micro SD Card Reader 2 USB 3.2 Gen 2 Ports (Type A) 1 USB 2.0 Port (Type A) 1 2-in-1 Audio Jack (Headphone / Microphone) 1 Microphone Jack 1 RJ-45 LAN (10/100/1000Mbps)
This product line is new.
We will publish reviews for the DHS Series when they become available.