Mobius TL
Don't call it a notebook. It's your competition that will be taking notes.
Lethal power that goes where you go.
The DogHouse Systems Mobius TL extreme gaming laptop offers the power of a desktop rig in a portable 15" system. The NVIDIA GeForce graphics card give you the ability to achieve exceptional FPS levels with the latest games! Also new to the Mobius TL is a full sized backlit keyboard and numeric pad.
Design
The Mobius TL steps up your gaming with unrivaled performance for even the most demanding users. Within its stylish matte black case and illuminated keyboard holds the key to your gaming dominance with jaw dropping graphics on a 15.6" LED backlit full HD 1080p LCD display. The Mobius TL delivers the ultimate gaming experience with features such as a backlit macro programmable keyboard, multi-gesture touchpad with scrolling, built-in 1.0M HD web cam, Bluetooth and WiFi with built-in Airplane Mode. Immerse yourself in an auditory experience with the powerful high definition audio platform. This amazing system provides rich features for today and tomorrow.
Platform
The Mobius TL holds nothing back! It's an extreme gaming laptop that offers the power of a desktop rig in a portable system. The shining star in the Mobius TL is the available AMD Ryzen 9 twelve core desktop processor with hyperthreading technology capable of juggling all your high performance needs without flinching. It has a dual channel memory controller with availability of up to 64 GB of DDR4 system memory. The no-compromise Mobius TL offers the best in leading-edge technology and performance for the discerning power-gamer.
Graphics
All Mobius Series laptops feature NVIDIA video cards to give you stunning graphics, stellar performance and an array of advanced features and connectivity options. Whether you want the best immersive gaming experience, dual monitors, video editing or amazing 3D graphics, NVIDIA can deliver on all! The Mobius TL is available with the latest 2000 series GeForce RTX mobile graphics.
Storage
The Mobius TL supports a 2.5" mechanical or solid state drive (SSD) and two M.2 NVMe solid state drives to meet your storage capacity and performance needs. Each system comes default with a single super fast 512 GB Intel 660P NVMe M.2 SSD drive, with upgrades available up to 2TB in size! Also choose from 2.5" SATA SSDs and HDDs up to 2 TB.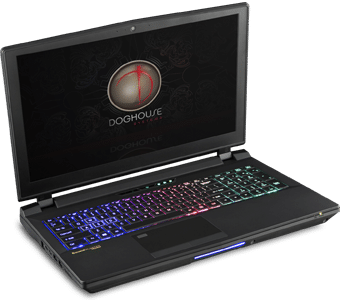 If you are an existing customer in need of support, please click here for all our Support resources.
Buying a DogHouse Systems computer is more than just adding something to a cart and checking out. We bend over backwards to provide world class customer service and provide assistance for the entire experience. From pre-sales, to support to post warranty, we are there for you. To this end, we perform extensive new product validation and compatibility testing in our lab to find that "magic combination" that will provide the best performance for the best price. We want to earn your business for life and we do that by providing support and attention to detail just as we would for our friends and family.
Warranty
Our warranty covers all parts, labor, and support related shipping costs necessary to keep your DogHouse Systems gaming rig in top shape so you will have no out-of-pocket service costs during your warranty period.
Desktop models come standard with a comprehensive 1 year warranty (upgradeable to 3 years)
Laptop models come standard with a 1 year warranty (upgradeable to 3 years)
In the unlikely event you have an issue with your system, we offer e-mail and phone support by our team of experts located right here in our Dallas, Texas USA office, all of whom are friendly geeks and gamers themselves. If we identify any failed components, depending on your comfort level inside of a computer, we will either send you replacement parts and talk you through the installation, or, in a worst case scenario, recall your system and repair it in our lab at absolutely no cost to you for in-warranty repair. Optionally, we offer an onsite warranty where instead of talking you through a repair or recalling the system, we'd send an agent to your home or office to perform the repair for you. Onsite warranty service is available in the United States and Canada. We provide phone and email support for troubleshooting for as long as you own the system, well beyond the warranty period, on every model we sell.
Shipping
In addition to the United States, we ship to Canada, Mexico and all 27 European Union member states as well as Switzerland, New Zealand, and Australia. Our web store is configured to display pricing in US Dollars, Canadian Dollars, British Pounds, Euros, and Australian Dollars for your convenience. Orders are delivered "Duties Paid" and your invoice will include line items for all applicable sales tax and import fees that we collect at the point of sale for your convenience. All our systems are built in and supported from Dallas, TX in the United States. As such, technical support is provided in English and Spanish and availability is limited to the posted times on the Support landing page accessible in the navigation bar at the top, keeping in mind that we are in Central Time USA (GMT -5:00) and we observe Daylight Savings Time during the summer months. Also, a modest "International Support Fee" is added to each order shipping outside the United States and is designed to offset the higher shipping costs we'll incur should there ever be a need to recall your system for repair or ship out replacement parts and recall failed components during the warranty period. This amount varies by region and depends on shipping costs to and from each region. All international orders ship with a universal power adapter at no additional charge.
We invite you to take a leisurely read through our Support Statement written in everyday-speak, not legalese.
Chassis:
15.6" Full HD 16:9 144Hz Wide screen (1920x1080) LED-Backlit Matte Display with G-SYNC Technology

Integrated Touchpad with Multi-gesture and Scrolling function
Built-in 1.0M HD Video Camera
Full-sized, programmable multi-colored backlit keyboard with Numeric Key Pad, Fully programmable macro capability
Instant button for Airplane mode on/off
W/A/S/D gaming keys
Integrated Fingerprint Reader
Kensington® security lock
Dimensions: 14.21" (w) x 10.16" (d) x 1.28" (h)br> 5.95 lbs with Battery Pack
Removable 6 cells Smart Lithium-Ion battery pack 62WH
Full Range AC-in 100~240V, 50~60Hz, 230W AC Adapter, DC output 19.5V, 11.8A
---
Processor:
Default:
3rd Generation AMD Ryzen 7 3700X Desktop Processor, 3.6 GHz, (8 cores / 16 threads) Dynamic overclock up to 4.4 GHz)
or
Optional:
3rd Generation AMD Ryzen 9 3900 Desktop Processor, 3.1 GHz, (12 cores / 24 threads) Dynamic overclock up to 4.3 GHz)


---
Memory:
Up to 64 GB DDR4 2933MHz (16 GB minimum), dual-channel controller with two sockets
---
Video:
NVIDIA® GeForce RTX 2070

Graphics features:
1 x HDMI output Port (with HDCP), 1 x Mini DisplayPort 1.4 output Port, and 1 x DisplayPort 1.4 over USB 3.2 Gen 2 (Type-C)

---
Storage:
M.2 SSD drive bays:
Intel SSD SATA3 (up to 2 TB, up to 1,800 MB/s)

2.5" drive bay:
Samsung 860 EVO (up to 2 TB, up to 550 MB/s)
Seagate Momentus SATA3 (up to 2 TB, up to 120 MB/s)

---
Audio:
High Definition audio interface
S/PDIF digital output
1 Array Microphone
2 Speakers, 1 Subwoofer
External 7.1CH audio output supported by 2-in-1 Audio, microphone, Line-in and Line-out jack
Sound BlasterX® Pro-Gaming 360°
ESS SABRE HiFi DAC for high resolution headphone audio
---
Operating Systems:
Default: Microsoft Windows 10 Home 64 bit
. Optional: Windows 10 Pro 64 bit.
---
Connectivity:
1 HDMI output Port (with HDCP) 1 Mini DisplayPort 1.4 output Port 1 DisplayPort 1.4 over USB 3.2 Gen 2 (Type-C) 1 Push-push Micro SD Card Reader 2 USB 3.2 Gen 2 Ports (Type A) 1 USB 2.0 Port (Type A) 1 2-in-1 Audio Jack (Headphone / Microphone) 1 Microphone Jack 1 RJ-45 LAN (10/100/1000Mbps)
From the forums:
"I've never had a better out-of-the-box experience with any product, ever. Including Apple."
"After playing wow for just a few nights on my new Mobius TL , I'm already wanting to get a matching desktop."
"The customer service in this company is unparalleled to any company I have ever dealt with, with any product."