DESKTOP GAMING SYSTEM
An Arsenal Built For Complete Domination
The Armor series is our line of full-featured desktop gaming machines designed to provide the best gaming experience in terms of performance, reliability, and price. Conceived and built by seasoned hardware professionals with love for PC gaming, the Armor series will make you the envy of your guild.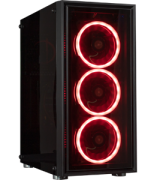 ARMOR VS
To refer to the Armor VS as an entry-level machine is somewhat misleading. With an Intel Core i3 13100 processor and a GeForce GTX 1650 graphics card default with upgrades up to a GeForce RTX 4060 Ti discrete video card, the Armor VS picks up where many "gaming desktops" leave off. It is our gaming desktop aimed at the budget-conscious gamer.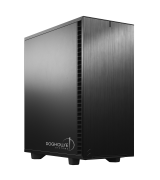 ARMOR ES
The Armor ES is our most popular machine with a 13th Generation 10 Core Intel Core i5 processor and up to a GeForce RTX 4080 video card. The Armor ES is our fully featured, mid-tier system, packed with power, expandability, and exquisite attention to detail.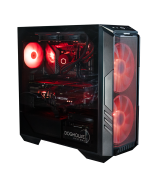 ARMOR TL
The Armor TL is our high-end gaming rig with a factory overclocked and water-cooled 13th Generation Intel Core i7 processor (upgradeable to Core i9 13900K) and up to a GeForce RTX 4090 video card. The Armor TL represents the best-in-class combination of elite desktop features, extreme gaming performance, and affordability.
Have any questions about the Armor Series desktops? Contact us!